hey everyone!
this is a new feature i am starting on my blog -" TIP OF THE DAY" yaaayyyyyyyyyyyyyy!
so today's tip will be -
i , about a year back , i got fringes done in my hair and within a week , to my horror , my forehead was full of breakouts. i tried to reason , argue and fight my brain to find the cause and it all came to one ignorable but very important habit
want clear complexion sans any acne , blemishes and irritation? one thing you can do is -
KEEP YOUR HAIR AWAY FROM YOUR FACE !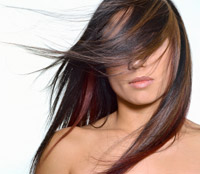 all those beauties out there who love their hair ( and face too) need to understand that the most uglies are caused due to hair and hair products .
hair on the face means oil (from the scalp along all the germs and grime and yucky stuff......cmon gals admit that your hair isn't as clean as your face all the times ,isn't it?) on the face which often means ACNE !!!!!!!!!!!
whatever hair products you use shampoo, conditioner, styling gels , sprays or even serums and oils they tend to disturb the natural pH levels of the skin thereby producing more sebum and causing unwanted, very hated zits !
so darlins keep your hair tied or in a head band as far as possible .
our very own stunner bipasha basu in a slick pony tail for the move corporate ....please note how her skin automatically becomes the focus and imparts radiance to the look !


and when doing anything to your hair wash it all off your face and skin so that none of the residue remains on the skin and causes problems !
in one month or so you may notice a radical improvement in your skin!
tell me how it works for you and also all other treatments u tried that worked / did no work in the comments below
love,
vj........<3
no copy right infringement intended ...... i do not own any of the above pics . if you are the true owner of the pics then contact me on vj.neglur@gmail.com and i will take down those pics asap !